Welcome to Fo-Ghlass 3.0...

For the duration of this March 2021 lockdown Bnr Saunders will be doing daily reading again and Bnr Callister will be doing daily maths through Teams with Bradda, following consultation with Bnr Kissack who is not able to provide Teams access. Look in the menus at the side for Maddaght and Chengey resources.

There will be information in the menu on the left that supports the maths and reading lessons and Bnr Saunders will email out the follow-up work for the current books to parents. You don¹t have to print everything out. Just use the ideas that are there.
Bnr Callister and Bnr Saunders will continue to email you daily with your link to access your Teams session and your child¹s time slot at approximately 10.45am.

Have paper and pens ready just incase we want you to write anything and try to make sure you are sitting somewhere quiet.
If there are problems getting onto the teams session you can email Bnr Callister or Bnr Saunders - even during the session.

If you find you are waiting for a longtime in the lobby then leave that meeting and re-click on the link in the email. It should take you to the correct meeting.
This is the weekly timetable: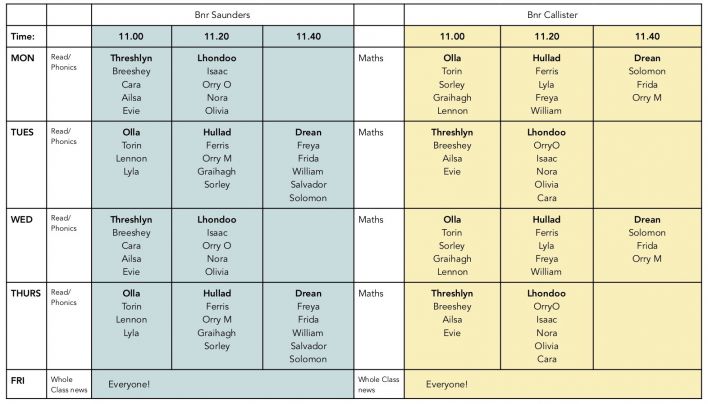 Each Friday we will have a whole class session where the children can all share any news they have. You can email Bnr Callister any photographs or drawings they have been doing and we'll share them on the 'Naight Bradda' page on the left.
If you have any worries about your child¹s learning or anything else during the lockdown period, then please contact either Bnr Saunders, Bnr Callister, Bnr Maddrell or Bnr Matthews.